Drew's Cycle Service Department

Welcome to Drew's Cycle Service Department. We offer a wide variety of services from performance packages, custom modifications and regular interval service to basic tire changes and quick repairs to get you on the road again. In addition we sell many parts and accessories for those who wish to do their own work. Our factory trained technicians can offer guidance and help select parts most suitable for whatever is on your wish list. Our hours are Tuesday thru Friday 9.00 A.M. - 6:00 P.M. and Saturday 9:00 A.M. - 1:00 P.M. You can reach us at 978-462-5152 or service@drewscycle.net

Service Department Menu

Big Twin 1,000/5,000 Mile Service $225.00
Big Twin 2,500/7,500 Mile Service $135.00
Big Twin 10,000* Mile Service $340.00
Big Twin 10,000 Mile Service Pre '00 $375.00
XL 1,000/5,000 Mile Service $215.00
XL 2,500/7,500 Mile Service $135.00
XL 10,000** Mile Service $320.00
XL10,000**Mile ServicePre '00 $350.00
* Fork Oil Change ( Cartridge ) '02 -'05 FaringModel Additional $270.00
** Fork Oil Change ( Cartridge ) on XL 1200S Models Additional $180.00

~ Fluids, Gaskets, Seals, Shop Supplies & Tax Not Included

Big Twin & Evo Oil Change - Regular Oil $75.00
Big Twin & Evo Oil Change - Synthetic Oil $100.00
Custom Coatings

In addition we offer powder coating and ceramic coating of most parts and accessories at very reasonable prices and quick turnaround. Available in many different colors and various finishes.

Check the Final Pics of our FXR Rebuild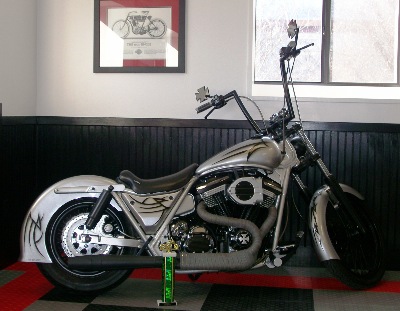 We were fortunate enough to take 2nd in our class at the N.E. Expo in Boston back in February.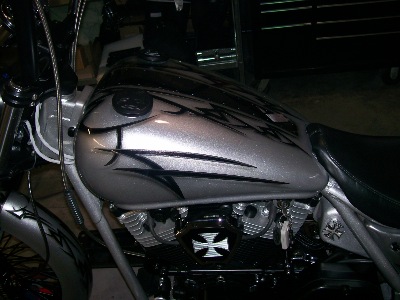 The tank was customized by Scott here at the Shop. He welded the rail you see along the bottom of the tank to give it a little dimension.

Here we turned the old sight glass into a decorative touch. It also doubles as a helmet hanger.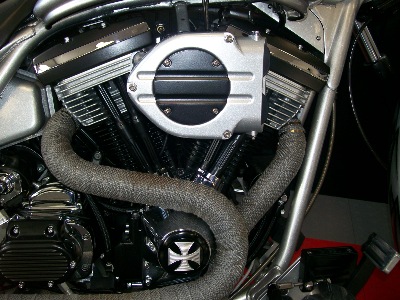 Here we used the header wrap to give it an old school look.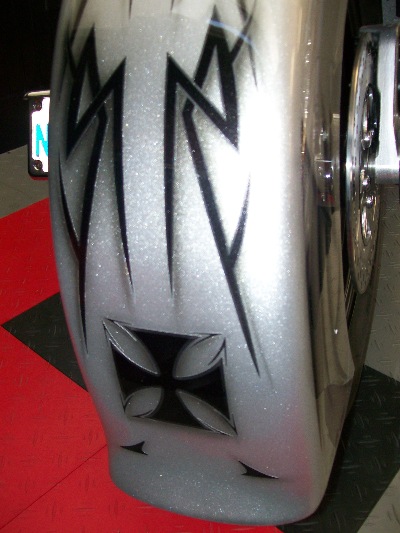 The cross and arrows you see are actually a recessed taillight and directionals compliments of "Thin Air Grafx" in nearby Amesbury.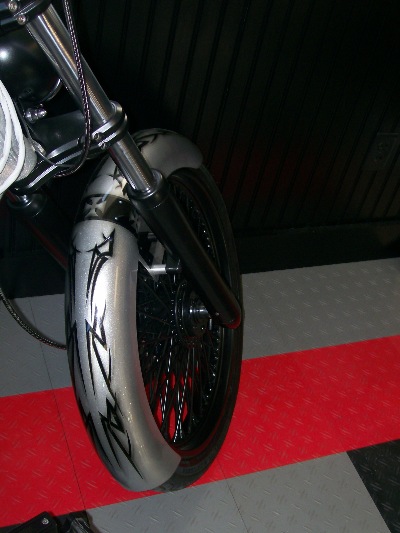 More of the great graphics from Thin Air. The fender brace is actually painted on.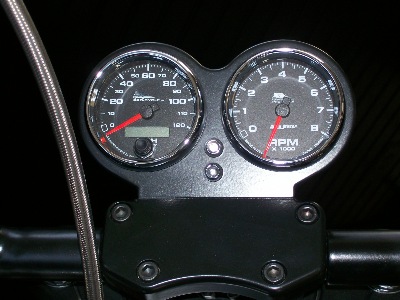 Here's a custom gauge mount we made. It allowed us to convert to electronic speedo and pair it with a matching tach.